This past week my Mother underwent a surgical procedure on her heart – she had her pacemaker upgraded to a pacemaker/defibrillator combo pack.  It was day surgery, it went well and by the end of the day she was resting at home, glad for the procedure to be over.
It's always heart-wrenching when someone you love is not well.  My first thought was what could I do to help her?  What could I do to help her feel better and show her how much I care?  So I went to the place that allows me to best communicate my feelings – food, homemade food.  Something that was "made with love" to nourish her body and soul.
As it relates to food, when someone says something is "made with love" we believe that someone has put their heart and soul, their tender loving care into that effort.   It evokes thoughts of Granny's homemade bread, hot out of the oven with a giant slab of butter, melting into the holes.
I think of my Mother's Sunday roast-beef dinner.  Over the years she has prepared hundreds of meals for our family and while I'm sure sometimes she didn't feel like it or was tired from working all day, I like to believe that when she did cook us a meal, she did so with love (and I don't doubt a shout-out to the Lord to give her strength).
Making and sharing food is the backbone of many of our experiences – to celebrate good times and share in joyous occasions, we also bring food during those not so happy times, when often it's difficult to know what to say.
I learned to cook from my mother.  When I was about 12, she would leave a set of instructions and ingredients for me to prepare the family meal while she was on her way home from work.  A modern-day meal-kit of sorts.  I don't necessarily recall thinking I'm doing this because I want to show my family just how much I love them, but I do remember getting a sense of satisfaction from preparing a meal that my family enjoyed eating.
Over the years, I've seen how much people enjoy when I cook for them –  such as a sweet potato and turkey lasagna,  for my best friend after she had her baby.  Or  a covert mac and cheese hiding  butternut squash – an effort to get my niece to eat more vegetables (still working on this one).  A big plate of spaghetti bolognese for my dad – his favourite meal. Or my much anticipated Christmas cookie tins filled with lemon bars and chocolate crunch cookies, or making homemade soup for my mom after her heart surgery.
Now I'm sure there are the naysayers and cynical folk out there to whom the term "made with love" is an overused phrase from Top Chef contestants, who are constantly cooking from their heart.  To many, if something is made with love, it's automatically pretty crappy.
But I feel receiving food that someone has made specifically for you is akin to getting a hand-written letter.  When was the last time someone sat down and wrote you a letter, then took the effort to address it, buy a stamp and then mail it.  How much easier is it to tap out a text?  But what makes you feel more special?
For me cooking is a form of communication, it allows me to express myself and to show my loved ones how much I care about them.  The act in itself is enjoyable –  when I'm cooking that dish, I think of the person I'm cooking for and what they mean to me.
One of my favourite food novels, now a film, Like Water For Chocolate, follows the story of a young girl, Tita, who longs for her lover, Pedro, but can never have him due to a family tradition whereby the youngest daughter cannot marry, but instead must take care of her mother until she dies. Tita is only able to express herself when she cooks.
Her lover ends up marrying her sister instead and Tita is forced to prepare the wedding cake. While preparing the cake, Tita is overcome with sadness, and cries into the cake batter. At the wedding, everyone gets violently sick.
In another scene,  Tita and Pedro have begun a secret affair.  Tita's strong emotions become infused into her cooking,  affecting the people around her through her food. After one particularly rich meal of quail in rose-petal sauce, flavoured with Tita's erotic thoughts of Pedro, a guest becomes inflamed with lust and ends up making ravenous love to a revolutionary soldier on the back of a horse.
Whilst I certainly don't want to make my loved ones sick or drive someone into making revolutionary love on a horse, I am a firm believer of the power of making food with love.  For my mom I made the ultimate feel-good meal – a bowl of chicken noodle soup.  This Asian Chicken Noodle Soup from Food Network Canada is super easy to make, and the garlic and ginger are antioxidant power houses, helpful in boosting the immune system, reducing blood pressure, lowering cholesterol and fighting infections.  I like to use home made broth in this recipe, dialing up the made with love factor to crazy heights!  To make it even easier, buy a rotisserie chicken from your local store and use that in place of cooking a chicken.
It's delicious and nourishing, warming and satisfying. To put it simply it's a hug in a bowl.  That's because it's made with love.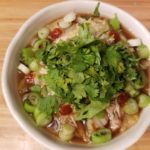 Asian Chicken Noodle Soup
Ingredients
4

tbsp

soy sauce

2

tbsp

mirin

1

tsp

sesame oil, plus 1 tsp for serving

1

clove

garlic

2

tbsp

fresh minced ginger

1

tbsp

sugar

4

tbsp

rice wine vinegar

1

tsp

Vietnamese chili paste

8

cups

chicken broth

1

whole

rotisserie chicken, skin removed

1

package

rice noodles, prepared according to package

1/2

cup

fresh chopped cilantro

6

green onions, chopped
Instructions
Mix soy sauce, mirin, 1 teaspoon of the sesame oil, garlic, ginger, sugar, vinegar, and chile paste in a small bowl.
Heat the broth in a medium saucepan. Add the soy sauce mixture, the chicken, and the vegetables and bring to a boil. Simmer for two minutes or until chicken is cooked through. Add the remaining 1 teaspoon sesame oil. Taste and adjust seasonings.
Pour over prepared Chinese noodles. Garnish with cilantro and scallions.