Bone broth? What the heck is that you may ask? Bone broth aka liquid gold is quite trendy right now but it's been around for thousands of years. More than 2,500 years ago, bone broth was used in Chinese medicine to strengthen the kidneys and help with digestion. However it has so many more benefits:
Helps with joint pain and inflammation
Will make your hair and skin glow!
Aids in digestion and leaky gut syndrome
Helps with sleep and brain function
Helps strengthen your immune system
Is highly nutritious!
I started drinking bone broth after I tore my Achilles Tendon last year and for anyone who has done this – I feel for you! It's not a fun injury at all.
Bone broth contains so many great nutrients including collagen which is what helps your body heal. You need to use nasty bones such as bone marrow and beef feet as those joints and knuckly bits create the gelatin which has the beneficial collagen. I warm up a cup and have it to start the day or before I go to bed. It's like having a warm hug to start and end your day. What's better than that?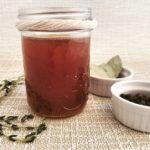 Bone Broth
Total Time
1
day
50
minutes
Ingredients
3

lbs

beef bones

I use two pounds of beef feet and one pound of bone marrow

1

medium onion, quartered

1

large carrot cut in chunks

2

celery stalks cut in half

3

bay leaves

5

sprigs of thyme

2

tsp

salt

1

tsp

black peppercorns

2

tbsp

raw apple cider vinegar

16

cups

water
Instructions
Place beef bones on a cookie sheet lined with parchment paper. Roast uncovered at 375F for 30 minutes. Discard the fat that pools on the tray.

Place roasted bones and all remaining ingrediants in a huge pot – you will need it – and bring to a boil. Reduce to simmer – as low as you can go – without shutting off your stove. Cover with a lid and let simmer for 24 hours.

Let broth cool slightly and drain. Discard all the bones, vegetables, peppercorns and herbs. Cool broth on stovetop and then place in the fridge to cool further. Once completely cooled, you'll notice a layer of fat on top. Remove this layer of fat and discard. The broth will have a jelly-like texture that wiggles. When you're ready to drink, place in a cup and heat up. The broth will last in the fridge for a week or you can freeze it up to three months.