I'll admit it, I'm not a huge pie person – I'll throw back most desserts, however pie is usually not my first choice.   There are a few that will tempt me – my moms' pecan pie that I anxiously await each Thanksgiving, a good sour cream rhubarb pie, but to be honest I can quite easily bypass a pie.  And apple pie is easy for me to say no to – I've just never been a fan.
But I'm a changed woman!  I recently finished a Baking Course at George Brown College and alas one of the first things we had to make was an apple pie.  Honestly, my heart sank – out of all the things I was hoping to bake, apple pie was not on the list  But after one taste of this pie, I knew it was a winning recipe – I rocked this pie.  Which is no easy feat, especially when making home made pie crust.
The most important thing to consider when making an apple pie is the apples. The best type of apples to use are hard, tart apples that can hold up to the massive amounts of sugar you'll be piling into the guts of the pie.  These include Cortland, Empire, Spy, McIntosh and good ole' Granny Smith.
Before we get into the recipe, here's a few tips to keep in mind to ensure you get the most amazing apple pie ever!
Apple Pie Tips and Tricks
When peeling apples, use a peeler to prevent waste of apples and retain the maximum amount of pectin (which is concentrated under the skin)
Pack your apples tightly folks!  This ensures you don't have valleys in the top of the pie.
Make sure you use a sufficient amount of dusting flour while rolling your dough.  It's best to use bread flour as your dusting flour and ensure you brush-off any extra flour when done.
Seal your crust!! This will prevent the filling from escaping during baking.
Cut small holes in top crust to allow the steam to escape or you'll have soggy pie crust.
This recipe calls for home made pie dough.  Try my No-Fail Flaky Pie Dough recipe.
Note:  As baking is really an exact science, all my measurements are listed in grams and millilitres for accuracy.  Do yourself a favour and invest in a digital kitchen scale.  You can find inexpensive scales at your local housewares store.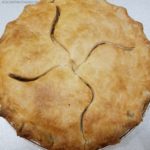 Amazing Apple Pie Recipe!
Total Time
2
hours
15
minutes
Servings
1
9" Double Crust Pie
Ingredients
6

apples

1/2

tsp

lemon juice

250

gram

sugar

25

gram

corn starch

cinnamon to taste

1

piece of pie dough

30

gram

butter for melting

1

tbsp

butter

egg wash as needed (egg +25ml water)
Instructions
Peel, quarter and core apples and slice thinly in an irregular fashion. Sprinkle lemon juice over apples to keep them from browning.
Blend sugar and starch. Add cinnamon if desired. Pour over apples and mix thoroughly.
Melt the butter in a small saucepan and mix in with the apple mixture.
Spread bread flour onto your rolling surface. Take the refrigerated pie dough and cut in half. Take one half and roll the dough out to the size of a 9"pie plate. Using your rolling pin, roll the pie crust onto the pin, and then roll over the pie plate, egg wash the rim, and fill with the apple mixture. Make sure the apple mixture is pressed firmly down. Dot with 1 tbsp of butter.
Roll second crust to same size as before. Use it to cover the apples. Secure the top crust to the bottom crust by pushing down on the edge and pressing against the pie plate at the same time.
Cut a few slits in the top of the pie to let the steam escape. You can do whatever design you fancy. Eggwas the top crust and edges.
Bake until golden brown and cooked through about 40 - 45 minutes.
Remove from oven and let cool!