Sometimes things don't go the way you want.
Three months ago I jumped from a boat to a dock, the dock being much lower than anticipated. I was told I did a very elegant drop and roll, which masked the shocking amount of pain felt in my ankle. A very bad sprain I thought.
Two and a half months ago I booked a mushroom foraging and feast adventure – foraging for mushrooms and then lunch – what a wonderful adventure! My ankle will be fine by then I thought.
Two months ago I found out my "bad sprain" was in fact a torn Achilles Tendon. I was given a "Moonboot" to wear – the modern version of the old school cast.  I was told I had to keep it on for at least three months.
Three weeks ago, I got an email reminder on what to bring and how to dress for my foraging adventure.  And for some reason, even though I was still wearing a cast and could not walk up and down a set of stairs without taking them one by one, accompanied with a grunt for each step,  I convinced myself I was perfectly capable of hiking through a wet, hilly forest, hunting for mushrooms.
Last weekend, I got up at the crack of dawn, which in itself is a huge challenge as I am not a morning person, packed up my foraging gear and headed to the town of Stratford – a two hour treck away – to join 20 other people in a mushroom hunt.
I eagerly joined the rest of the group, supported by my trekking poles, walked about 10 feet and realized I was in way over my head and that I would most definitely injure myself if I attempted this hike.  So I asked the people in front of me (I was already the one straggling behind) to let our tour guide know I was going to meet them at the restaurant later for the feast part of the day.  If there's one thing I know how to do well, that is feast!
So now what?  I'm stuck in Stratford, a place I've never been to and only known to the rest of the world as the birthplace of Justin Bieber and as I also learned –  Ron Sexsmith. How was I going to kill a few hours before meeting the rest of the group for lunch?
Since I was meant to be foraging – I decided to do a bit of foraging on my own.  And every small town has a farmers market.   Did you know that the  Stratford Farmers Market is one of the oldest markets in Ontario, running since 1855? It's open year round every Saturday from 7am to noon at the Stratford Agriplex located at 353 McCarthy Road in Stratford.  Stratford was settled by English, Irish, Scottish and German immigrants, starting in the 1820s, but mainly throughout the 1830s and 1840s, and most became farmers, thus the area of Stratford is known for mixed farming, dairying and hog production.
While not a huge market, it was filled with a great variety of vendors selling everything from fresh veggies, cheese and meats and homemade perogies, to fresh eggs, and baked goods, coffee, fresh honey and jams,  flowers and crafts.  You could also buy cold pressed juice and smoothies,  Thai food or whatever soup the local Rotary Club was making that morning – it was the smell of mulligatawny soup that permeated the market when I first walked in.
The smell of fresh bread straight from the oven –  like a giant warm hug from Grandma – was the second smell I encountered and so I headed to  Downie Street Bakery. which makes hand-shaped artisanal and speciality breads and grabbed a loaf of whole wheat buttermilk and honey bread.
A loaf of bread begs for some cheese so a few vendors down I picked up some pepper flavoured and horseradish flavoured cheeses from  Mountainoak Dairy Farm which can be found close-by in New Hamburg.  The farm was started by a Dutch family – the Van Bergeijk's – whom immigrated from Holland in 1996.  Mountainoak is a literal English translation of their Dutch family name "from the mountain oak".
My foraging continued with some fresh coffee from To Bean or Not to Bean, a local roastery and workers co-op which roasts small batches of ethically sourced Fair Trade Organic and Direct Trade beans.  I purchased some medium dark roast coffee from Papua New Guinea, cheekily named Papua Don't Preach.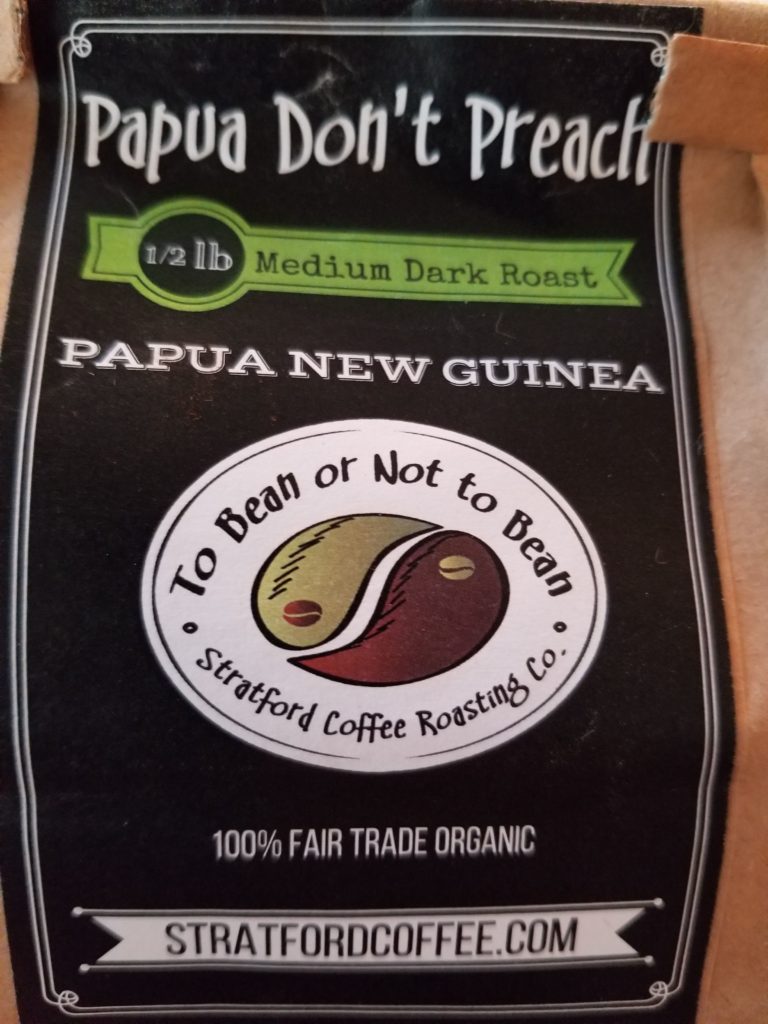 I finished my farmers market forage with some dried garlic chips from Luyten Garlic Produce, a local garlic farm that has been selling their products across Ontario for over 25 years.  These dehydrated garlic chips pack a punch in stir frys and salads!  They are also quite effective at clearing out nasal passages when eaten straight from the jar.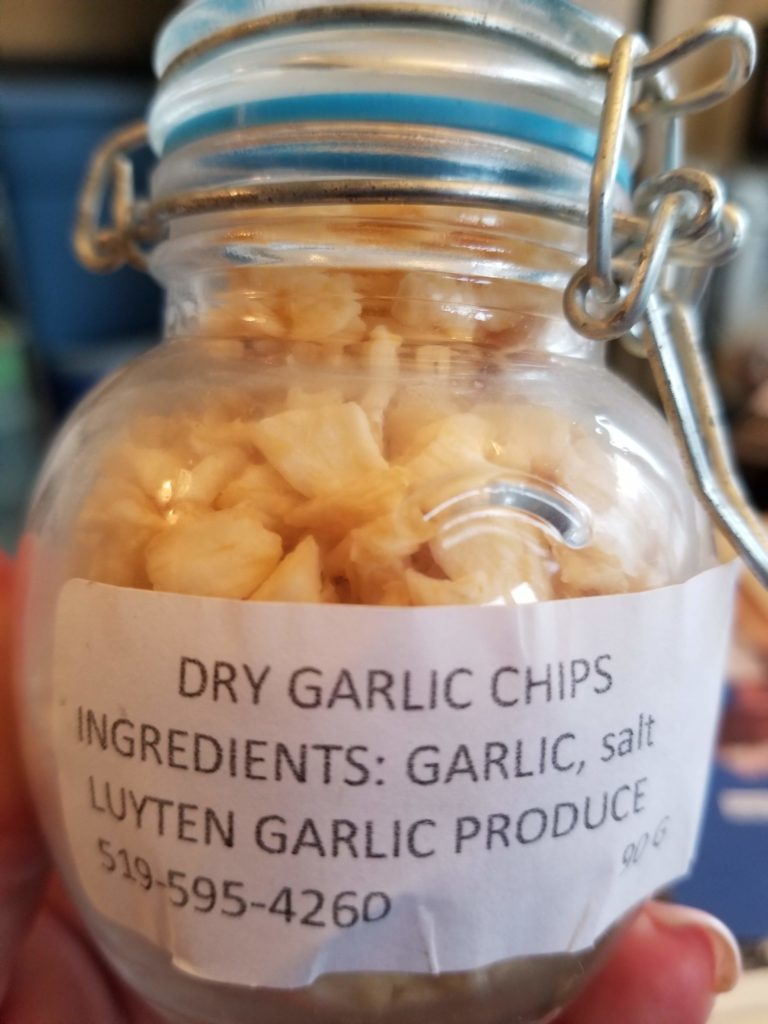 After finishing at the Farmers Market, I still had time to spare and was told by more than one person to head to Shakespeare, a tiny village about 15 mins east of  Stratford.  And I mean tiny – population just over 1,000 people.  But here's the thing about small towns and talking to the locals – you find the best places to visit.  No matter where I am in the world, I always try to speak to the locals – you'll end up finding some of the most memorable places and having a heightened experience.
In Shakespeare, I was directed to The Best Little Pork Shoppe.  I'm not going to lie, all I kept thinking of was Bert and Dolly and the Best Little Whorehouse in Texas.  Except at this place you could actually buy pork and chicken.  This country-kitsch, quirky  little shop sells every cut of pork you could imagine as well as chicken, baked goods,  sauces and spices to make any BBQ king happy and rows upon rows of jams, jellies and pickled vegetables.  I picked up some smoked garlic pork sausage which was the bomb – smoky and salty and slightly sweet from the garlic, with a satisfying snap from the casing – it was one of the best sausages I've ever had.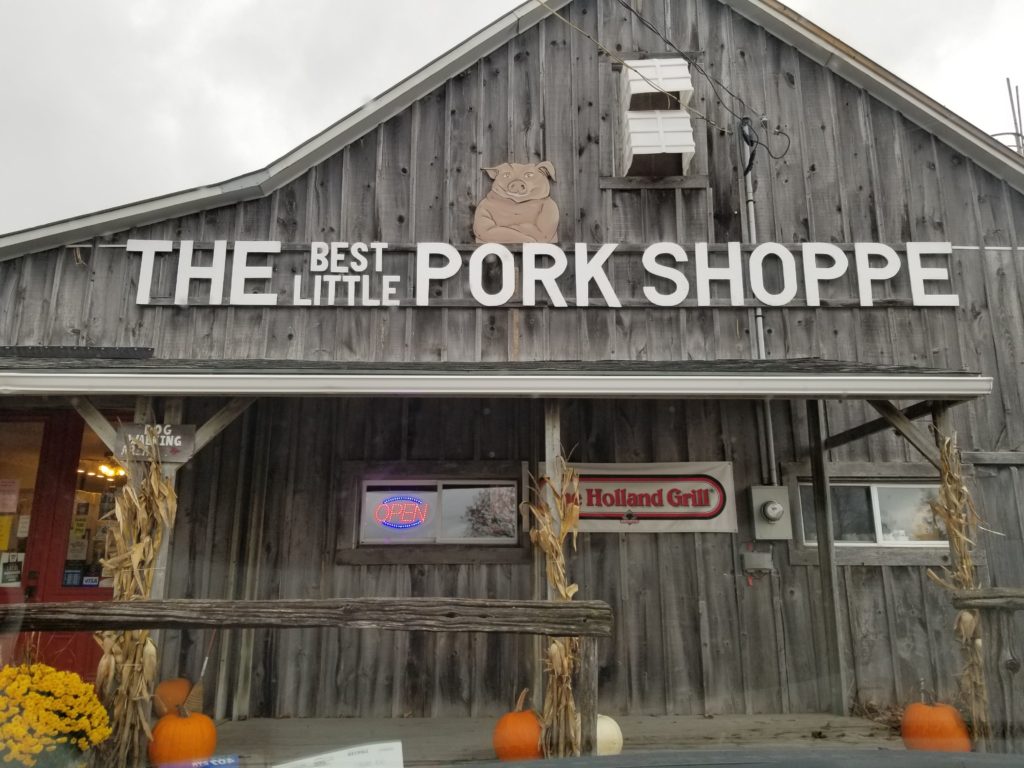 Finishing up at The Best Little Pork Shoppe, it was time for me to join the rest of the foraging group for lunch.  I may have not had the same adventure as them, but in following my love of food, which brought me to Stratford in the first place, a new adventure found me.  As George Bernard Shaw said "there's no love sincerer than the love of food."