I have been cooking and baking for years, mastering and successfully executing difficult dishes, with more or less a great result.  However there was one item that intimidated me so much that I didn't even try.  Pie dough.  My solution was to purchase frozen pie dough from the grocery store and beat it up a bit so it looked like it was lovingly rolled with my own two hands.
I am happy to share that I have conquered my fear of pie dough, thanks to taking a Baking Arts course at George Brown College.  Not only did I conquer my fear, the results were spectacular which is more than I expected on my first try.  I've made this recipe multiple times since and it has worked every time.  Which is why I deem this recipe no-fail.
In terms of ingredients, pie pastry is really quite a simple product:  flour, fat, water and salt.  The challenge is in the technique and understanding how the ingredients work together.  So let's go on a quick science journey – if you understand the ingredients, you have a better chance of pie dough perfection.
Pie Ingredients 101
Flour
Let's start with flour – pastry flour is the best choice for pie dough and can be readily found at any grocery store.  It has enough gluten to produce the desired flakiness, yet is still low enough in gluten to give you a tender crust as well.  Hence the descriptions of "tender, flaky crust" that one always wants to achieve.
Fat
Shortening and butter are the two most common pie fats, however it's best to work with shortening as it also results in a flaky crust.  Unlike butter it does not melt easily which makes it easier to work with.  But we all know that butter equals flavour – if you prefer you can blend a quantity of butter into the shortening.
Water
Next up is the most basic of ingredients – H2O.  Water is important as it also develops gluten in the floor.  However it's a fine line with water – too much will give you a tough dough as you over developed the gluten and not enough will result in the crust falling apart.  Most importantly – the water must be added cold or you will impact the temperature of your dough.
Salt
Finally the salt.  Basically, salt has a tenderizing effect on the gluten and provides flavour. Always dissolve your salt in the liquid before adding to the dough to ensure even distribution.
Easy right?  At least easier said then done!!  Just take your time, follow the recipe and you should have a pie crust that works every time.  Just make sure you handle the dough as little as possible to avoid a tough dough.  Tough dough will give you pie shrinkage. And no one enjoys shrinkage.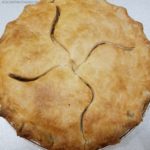 No Fail Flaky Pie Crust
Servings
1
Double Crust 9" Pie
Ingredients
750

gram

pastry flour

500

gram

shortening

250

ml

cold water

30

gram

brown sugar

15

gram

salt
Instructions
Rub shortening into flour until it becomes irregular pea sized crumbs.
Dissolve salt and sugar in cold water, then add all at once to the pie crumb mixture and mix just enough to incorporate. Do not overmix!
Transfer dough to a table floured with bread flour and shape into a thick roll. Cover with plastic wrap and allow to rest for 15 minutes in the fridge before rolling.
Recipe Notes
Overworking your dough will produce a mealy dough and underworking will result in a dry and tough dough.